Puck Preview: New faces, new season, & pucks drop tomorrow
We learn year after year that the volatile world of prep school hockey leaves plenty of surprises by the time the season is over, many positive and some negative.
Despite losing a wealth of talent across the board, coaches scrambled to reload their rosters in preparation for what should be another wild year in the league.
Here's how some of the biggest contenders stack up:
Avon Old Farms
Last March, the Winged Beavers fell in the Elite 8 semi finals 5-3 to the eventual tournament champions Gunnery. Boasting a 22-2-4 record last year and holding a consensus #1 ranking in most polls, Avon had a resurgence as they seemingly reclaimed their reputation as a powerhouse in New England hockey.
The defending Founders League champions lost irreplaceable talents in Patrick Harper (BU / Nashville Predators) and Jamie Armstrong (Northeastern). Coach Leon Hayward and head coach John Gardner reloaded impressively, adding offensive pieces Trevor Zegras (BU), Drew Eiser (UConn), and Nick Wildgoose (St. Lawrence); they join juniors Tyler Madden (Northeastern) and Matt Allen (Providence College).
The Winged Beavers will be led on defense by skilled senior goalie Brendan Schellin as well as stud sophomore Spencer Knight (Boston College). Aided by returning defensemen Cullen Young, Ryan Ashe (Middlebury), and Aaron Pinto, AOF is thick with talent, also having added junior Mac Wiseman (UConn), Ben Pirko (Union). The Winged Beavers will be a force in the Founders League and are not to be overlooked.   
Berkshire School
The Berkshire Bears have struggled the last two seasons since falling to Gunnery back in the 2014 semi-finals. Racking up a 13-12-3 record last year the Bears will look to return to their usual standard of success this season.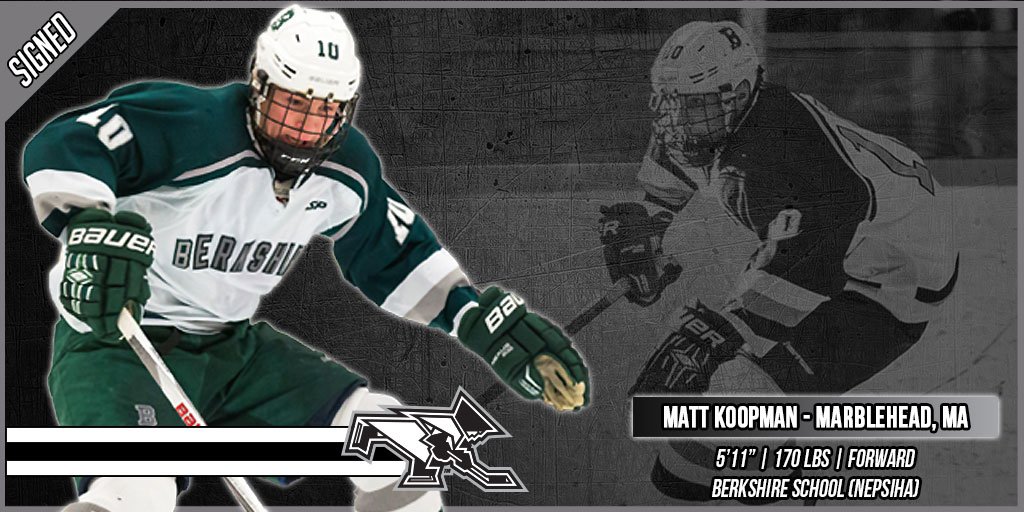 The Bears are led by brothers Matt Koopman and Kyle Koopman, both of whom are committed to Providence College. Matt racked up 38 points last year as a forward, and Kyle tallied 13 points as a defenseman. The Koopman duo is aided by returner Ryan Keelan and PG Nick Botticelli from Malden Catholic. The Bears are a team looking to make noise this season, expect them to top some of the league's best.
Cushing Academy
The Penguins are coming off an impressive year, finishing with a 20-12-0 record and the #1 seed in the Martin/Earl (Large School) Tournament. They added on to their strong defensive group with sophomore Patrick Keegan (Wisconsin).
Cushing's defense is lead by senior goaltender Joey Halstrom, who ran as the starter last season, producing 116 saves. Coach Rob Gagnon adds three skilled forwards PGs in Garrett Devine, Cam Walter, and Joey Ansaldo to bolster his attacking options this season. They will aid returner Ashton Fry who netted 29 points.
Choate Rosemary Hall
Following up a disappointing 8th-place Founders League finish and a 9-12-4 record last year, Choate will look to improve as they retain a strong core group of Jack Hoey (Colgate) and forward Bobby Goggin. The Wild Boars added talents in '99 forwards Patrick Mullowney, Daniel Kramer and Ethan Gorelkin.
Choate will rely on returning junior Cal Stewart in net, who saw most of the action last year with a save average of .908%.     
Deerfield Academy
New head coach Tim McVaugh looks to revamp the program after last year's record of 10-13-2 and 7th-place finish in the Founders League.
They have a seasoned group of seniors in Thomas Dale, Harry Gahagan and defenseman Justin Marler. DA has also added impact players in Danny Farr and Chad Haggerty. They are aided by returner Sam Vigneault in goal, who will look to soak up last year's leaky "goals allowed" category. Deerfield's squad will be a curious one under new leadership with plenty of new faces in the locker room.
The Gunnery
The defending New England champions return star forwards Matt Danner and Zach Pellegrino, who combined for 48 points last season. Additionally, PG Tyler Scott and Ryan Brassil will make an impact on offense. On defense, head coach Craig Badger returns seniors Keelan Ulnick and Alex Wilkins. Joined by Diarmad Dimurro (Dartmouth). Gunnery also adds two fresh faces in net with Nick Vannka and Cedrick Andree.
Hotchkiss School
After a tough 8-17-0 2016-17 campaign the Bearcats returning dynamic forward Chris Theodore (27 points) will lead the Bearcats this season. Additionally, defenseman Marshall Rifai (Harvard) will help lockdown defensive efforts for the Bearcats. Expect Coach Michael Traggio to make some noise with the Bearcats this season.
Kent
Kent finished last season at .500 mark and failed to make the playoffs. The outlook for this year's team is murky and is difficult to predict.
Perhaps the most important piece to the Lions' success this year is senior goalkeeper Peter Negron. Last season, Negron posted a .910 save percentage, and if the Lions hope to see success this season, Negron will have to step it up.
On top of that, a Kent offense that scored 2.67 GPG last year will have to find the net more to put the Lions back in the playoffs. The Lions look to return to their role a prominent New England hockey powerhouse, as they have been in years past.  
Kimball Union Academy
KUA posted a whopping 6.06 GPG last season and was seeded #2 in the Elite 8 tournament. However, it's unlikely that the team continues to produce such outstanding numbers. Not only will will they no longer have their top four scorers, but they've also lost goalie Payton Porter, who posted a .930 save percentage.
But all is not lost for the Wildcats, as junior goalie Hugo Turcotte is a hot prospect who has the potential to be as strong as, if not stronger than, Porter. Besides Turcotte, returning forwards Bobby Young '17 (1.00 PPG) and Roope Hirvoven '18 (1.14 PPG)  will look to lead the team to victory this winter.
Loomis Chaffee
Last year, the Pelicans were lead to the 7th seed in the Elite 8 Tournament thanks to strong goalkeeper Timmy Birarelli and a young core of players. With Birarelli having graduated, and since it remains unclear who will be the Pelicans' starting goalkeeper this winter, LC will have to rely on its skilled junior class to propel the team to victory.
Good, tough win in scrimmage with Tabor today. Thanks to St. Paul's School for hosting a great jamboree! Focus turns to first game @ TP Sat.

— LC Boys Hockey (@LCBoysHockey) November 28, 2016
Last season, eight out of ten of the Pelicans' top scorers were sophomores. Expect those top scoring youngsters to come back revitalized, more developed, and ready to win.
Phillips Exeter Academy
After an impressive regular season record of 27-4-1, the Lion Rampants fell to Milton Academy in the first round of last year's Elite 8 tournament.
Losing forwards Ted Hart (Yale) and Andy Espinoza (Wesleyan), Coach Barbin restocked the Exeter defense by adding PG Sam Twombley, and Cam Speck. The goaltender position, on the other hand, remains a question mark.
Huge 10-0 win against Brewster! Goals from @kyle_jadatz13 (4), Mcshea (2), @Paddy_Bogart (2), @cshapiro98 @NMaercklein99 with one each.

— PEA Boys Hockey (@PeaBoys) November 20, 2016
Exeter returns forwards Ryan Moore, Brad Ingersoll and Colin Shapiro. PEA will look to return to the Elite 8 playoffs and will work for a better playoff result in 2017.
Salisbury
Year after year, the Salisbury hockey program is one of the strongest in the region. Last season, Salisbury wasn't able to clinch its fourth consecutive title and was knocked out of the playoffs by eventual champions the Gunnery.
None of Salisbury's top seven point scorers from last season will be returning to the Knights this winter. After losing the core of their team, expect to see a weaker Salisbury team than has been seen in year's past. Young, unproven talent will have step up for the Knights if they want to continue to be a dominant team in the Founders League.
Taft
Taft hockey finished in second to last place in the Founders League with a weak 4-10-1 record in league play. Expect Taft to have a slightly stronger season this year, as their top five point-scorers, led by offensive centerpiece Matteo Mangiardi (a fall-season, soccer standout), will all be returning to the ice for the Rhinos.
With goalkeeper Andrew Farrier (.923 sv%) returning as well, the Taft Rhinos have what it takes to be a solid team. The key to Taft's success will be producing goals upfront, as they averaged a relatively-low 2.36 GPG last season. Given that Mangiardi scored eleven more goals than any other teammate, the Rhinos will look to secondary scorers Shea Courtmanche '19 and John-Michael DiGregorio '17 to find the back of the net on a regular basis.
Trinity-Pawling
With a team mostly comprised of seniors, TP may be able to put forward a better performance than year's past. A key piece to the Pride's success will be senior goalie Justin Lampert, who posted a .920 save percentage last season.
Also, keep a close eye on Jordi Jefferson '17, who led TP in goals and total points last winter. If Jefferson and Lampert can find a strong supporting cast, then expect The Pride to find their feet a little more this time around.
Westminster
It will be difficult for Westminster to recreate the success they enjoyed last season, as the core of their team will not be returning this season.
Not only have the Martlets lost the majority of last season's offensive front, including stars Brian Smyth (Duke lacrosse), Johnny McDermott (BU), and Taggart Corriveau (St. Lawrence), but they also head into this season lacking an experienced goalie.